Back pain has long been a companion of mine spanning over 25 years. It moves about from different areas with varying degrees of pain. I stumbled upon Dr. Sarno's books on the possible emotional causes of back pain. I seem to fit all of the criteria for having Tension Myostis Syndrome (TMS).
Believing that it is possible that your pain is caused by suppression of anger and rage is a big part of being cured of TMS. In the following article TMS theory and therapy will be described in detail. You will be asked to discontinue all of your gadgets and treatments that you are presently using for your pain. That was a big one for me as I have just about every tool you can buy for relieving back pain. I have a foam roller, tens machine, vibrating medicine ball, small squash ball, suction cups for cupping, infrared heating pad, massage chair and the list goes on. I use a chiropractor, therapist for dry needle therapy, Chinese doctor for cupping, massage therapist, a therapist for prolotherapy and an acupuncturist. The only thing I haven't tried is a psychotherapist and I think Sarno may be my next stop.
I definitely know I am carrying some emotional baggage that could be linked to the pain in my back. I am hoping that my blogging will also be therapeutic for me and that I can release some of the negative emotions I have suppressed through writing.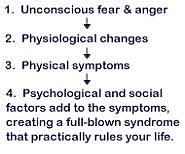 What exactly is Tension Myositis Syndrome known as (TMS)? Dr. John Sarno describes Tension Myositis Syndrome (TMS) as a condition characterized by psychogenic musculoskeletal and nerve symptoms, most notably in back pain. Dr. Sarno, a professor of Clinical Rehabilitation Medicine at New York University School of Medicine and Attending Physician at The Rusk Institute of Rehabilitation Medicine at New York University Medical Center, has written four books on the topic and also states that the condition may be involved in other pain disorders as well. The treatment of TMS includes education, writing about emotional issues, resumption of a normal lifestyle and, for some patients, support meetings and psychotherapy. One of Dr. Sarno's assistants, David Schechter (a Medical doctor and former student and researcher), published a peer-reviewed study of (TMS) treatment showing a 54% success rate for chronic back pain.
How is it Diagnosed?
Diagnosis and treatment of TMS are not mainstream therefore not widely accepted by the medical community. However, TMS and Sarno's treatment methods have received national attention, including a segment on ABC's 20/20, an episode of Larry King Live, interview with Medscape, and articles in Newsweek, The Seattle Times, and the New York Times. Prominent medical doctors who support TMS treatment include Andrew Weil and Mehmet Oz. Many high profile patients have been treated for tension myositis syndrome, they include, Tom Harkin, John Stossel, Howard Stern, and Anne Bancroft.
Symptoms
Back pain is frequently mentioned as a TMS symptom, but Sarno defines TMS symptoms much more broadly than that.
Types of Symptoms: TMS symptoms include pain, stiffness, weakness, tingling, numbness, muscle contractures, cramps and other negative sensations, according to Sarno.
Location of Symptoms: Sarno states that not only do TMS symptoms occur in the back but can occur in the neck, knee, wrists, and other parts of the body. Schechter states that symptoms will move about the body and that this is an indicator that the pain is from TMS.
Diagnosis
No Known Physical Cause: Both Sarno and Schechter state that a physical examination, tests, and imaging studies are needed to rule out other serious conditions, such as tumors. Sarno gives little value to herniated discs and states that the symptom location doesn't even correlate with the herniation location.
Tender Points: Sarno has found that he uses six main tender points to diagnose TMS: two tender points in the upper trapezius, two in the lumbar paraspinal muscles and two in the lateral upper buttocks. He states that when these are found almost 99% of the patients have TMS. Doctors who are testing for fibromyalgia use eighteen tender points as diagnostic criteria.
Other Psychosomatic disorders: Schechter and Sarno consider prior history of psychosomatic disorders an indication that a patient has TMS. Things like irritable bowel and tension headaches are examples of this.
Treatment
The treatment for TMS includes education, writing about emotional issues and resumption of a normal lifestyle. If a patient doesn't recover quickly, then the protocol also includes support groups and psychotherapy.
Athletes with repetitive strain injury (RSI) are also referred to Sarno for treatment.
Education
For education, patients may have office visits, lectures and written and audio materials. The content of the education includes psychological and physiological aspects of TMS. According to Schechter, the education allows patients to learn that their condition is actually not real and that any disability they have is a function of pain-related fear and deconditioning, not the actual risk of further injury.
Writing About Emotional Issues
Sarno recommends that each patient should set aside time daily to think and write about emotional issues that could have led the patient's to repress emotions. Here are the following writing tasks he recommends.
Writing a list of issues: Sarno states that each patient should try to list out all the issues that might contribute to the patient's repressed emotions. He suggests they look in the following areas: childhood experiences, such as abuse or lack of love, personality traits such as perfectionism, conscientiousness and a strong need to be liked by everyone, current life pressures, aging, and mortality and situations in which the patient experiences conscious but unexpressed anger.
Writing Essays: Sarno recommends that the patient writes an essay for each one of the items on the above list. He prefers longer essays because they force the patient to examine the emotional issues in depth.
Schechter developed a 30-day daily journal called "The MindBody Workbook" to assist the patient in recording emotionally significant events and making connections between those events and their physical pain or symptoms. This daily repetition of the psychological process over time defeats the repression through conscious awareness.
Resuming a Normal Lifestyle
Sarno asks his patients to resume a normal lifestyle and to take these actions.
Stop all physical treatments: This means stopping manipulation, physical therapy, and other physical treatments because "they tend to reinforce the cause of chronic pain.
Resuming normal physical activity: Schechter states that patients are encouraged to "gradually be more active, and begin getting back to a normal life. He also encourages his patients to discontinue the safety behaviors aimed at protecting their 'damaged' backs.
Support Meetings
Patients who do not make prompt recovery are encouraged to use support meetings. Support meetings allow patients to explore emotional issues that may be causing their symptoms and review the key concepts covered earlier in their education of TMS.
Psychotherapy
Sarno says that about 20% of his patients need psychotherapy. He uses short-term, dynamic, analytical oriented psychotherapy. It is estimated that between 6-10 sessions are usually needed.
Recovery
Alan Gordon, LCSW has created a TMS recovery program on the TMS Wiki, which includes articles, exercises, and segments from sessions explaining therapeutic concepts.
Medical Evidence
The medical community is not as accepting of TMS as a cause of pain while psychogenic pain and pain disorder is widely accepted as a cause.
In 2005 a study by Schechter at the Seligman Medical Institute (SMI), co-authored with institute director Arthur Smith, found that treatment of TMS had a 57% success rate among patients with chronic back pain.
In 2007 a study with Schechter, Smith and Stanley Azen, Professor and Co-Director of Biostatistics in the Department of Preventative Medicine at the USC Keck School of Medicine, found a 54% success rate for treatment of TMS. The treatment consisted of office visits, at-home education materials, writing about emotional issues and psychotherapy. The average length of time the patients were experiencing pain was about years, typically they resolved the pain within weeks of treatment.
When comparing TMS to other treatments such as the Turner Study, they were shown to have a much less high success rate of (26%-35%) when compared to TMS treatment.
Theory
The theory behind TMS is that unconscious emotional issues (primarily repressed rage) initiate a process that causes physical pain and other symptoms. His theory suggests that the unconscious mind uses the autonomic nervous system to decrease blood flow to muscles, nerves or tendons, resulting in oxygen deprivation (temporary micro-ischemia) and metabolite accumulation experienced as pain in the affected tissues. Pain that moves up and down and around the spine from side to side, implies that the pain may not be caused by the injury.
Sarno states that the unconscious mind has a self-defense mechanism against mental stress and emotions such as anger, anxiety, and rage. The conscious mind is distracted by the physical pain, as the psychological repression process keeps the anger and rage contained in the unconscious and prevents it from entering into our awareness. Sarno believes that once the patient recognizes that the symptoms are only a distraction, the symptoms then serve no purpose, and they just go away. TMS can be considered a psychosomatic condition and has been referred to as a "distraction pain syndrome."
Sarno is a very vocal critic of conventional medical treatment with regard to back pain, which is often treated by rest, physical therapy, exercises, and surgery.
Notable Treated Patients
Howard Stern, radio personality, accredited TMS treatment with the relief of his excruciating back and shoulder pain, as well as his obsessive-compulsive disorder.
John Stossel, 20/20 co-anchor was treated by Sarno for his chronic debilitating back pain. Stossel felt that TMS cured his back pain although he continues to have relapses of pain.
Janette Barber, television writer, and producer said that for three years she had been increasingly unable to walk, and eventually began using a wheelchair, due to a severe ankle pain originally diagnosed as tendinitis. She was later diagnosed and treated for TMS. Barber stated she was pain-free" one week after Sarno's lecture and able to walk and run within a few months. Barber stated that she had occasional relapses in pain.
Anne Bancroft, an actress said she had seen several doctors for her back pain, but only Sarno's TMS treatment helped her.
Terry Zwigoff, acclaimed filmmaker said he was on the verge of suicide due to her excruciating back pain until he turned to in desperation to Sarno's method and it saved his life. He recently told another woman about it who was in a similar situation and she was also cured.
Controversy
Although many mainstream doctors do not accept the TMS diagnosis, there are many that do. Dr. Andrew Weil, a notable medical doctor and alternative medicine proponent endorse TMS treatment for back pain. Mehmet Oz, a television personality, and Professor of Surgery at Columbia University includes TMS treatment in his four recommendations for treating back pain. Richard E. Sall, a medical doctor who authored a book on worker's compensation, includes TMS in a list of conditions he considers possible causes of back pain resulting in missed work days that increases the costs of workers compensation programs.
Critics state that the TMS theory has not been proven in a properly controlled clinical trial. The TMS theory has been criticized as too simplistic to account for the complexity of pain syndromes. Jame Rainville, a medical doctor at New England Baptist Hospital, said that Sarno mistakenly treated some patients for TMS who had real physical problems. He did state that TMS treatment did, in fact, work on some of Sarno's patients, however.
Sarno maintains that he has helped many patients who have exhausted all other means of treatment.
Twelve Daily Reminders to Cure Yourself of TMS
As seen on 20/20, Watch it Here Now
Meditation Video for Back Pain Caused by TMS
This is a remarkable meditation that can really help you with your back pain. Just sit back and close your eyes and listen as the speaker takes you through the TMS recovery process.
Emotional Chart of the Body and Held Emotions
We live in a time where being fit and eating well are priorities to most of us, however, we are overlooking perhaps the most important health aspect of all, our stress levels. Whether we are holding onto things from the past or under constant stress every day, it is having a profound effect on our health and certainly the pain in our bodies. Who would have thought that our bodies are creating pain to cover up deeper emotional pain that we have buried in our subconscious? Certainly something to think about.