Fibromyalgia and Chronic Fatigue Syndrome have been on the rise. More and more people are complaining of debilitating pain throughout their bodies for unexplained reasons. It zaps their energy and takes away their joy in life.
I myself have suffered from chronic pain and have spent years trying to get to the bottom of it.
I blamed a lot of my pain on my active lifestyle. I like to play tennis almost daily and I go to the gym several times a week to lift weights and do a spin class when I can work it in.
Here's the odd thing that got me thinking. On days when I would do nothing at all my body would ache just as bad if not worse as the days I was really active. The pain and stiffness got so bad in my body that I had trouble turning at the waste from side to side. I do yoga at home on my own and found that it became increasingly difficult to do any twisting. I was racked with flank pain on both sides of my spine. It felt as though I had lifted heavy weights and was sore afterward, but I hadn't lifted. It was said to think that my body was desperately trying to let me know that I was consuming something that was intolerable to it. Listening to your body is so important and the wisdom and persistence it has to alert you are never-ending. In time your body will up the ante and raise the pain bar until you finally notice the signs it is sending you. There was definitely a correlation between what I ate and my emotional state. It seemed to have a great effect on the amount of pain and stiffness that I felt.
A few years ago I was getting a lot of terrible headaches, usually in the middle of the night. I went to a naturopath and she suggested I do a food allergy test. I went ahead and had the test done and I was surprised by all the things that came back that I was sensitive to. For a while, I was very diligent about eliminating these things from my diet. As time went on I did indulge in some of the things that were on the list of what not to eat. Normally I could get away eating one thing, but if I had a day where I ate 3 things that's when I would get the nightly terrible headache. These are the kind of headaches that are different, they often start in your neck and gradually creep up into your head. When one is coming on it is unmistakable and you know what you are in for. No amount of aspirin will affect them and they can be so bad you just have to hold on to your head in misery. Sometimes nausea would accompany them as was the case when the headaches were caused by red wine and certain grain alcohols. Depending on how many sulfites were added would determine the severity of a headache. Some wines I wouldn't get a headache at all with two glasses and others I would get a banging headache for over 24 hours from one glass. I am not by any means a heavy drinker and what I am describing is a small amount of wine or alcohol could give me a debilitating headache.
What Could be Causing my Pain?
I had to give you that background so I could explain the rest of what I learned about chronic inflammation and how it relates to food sensitivities.
Being retired and in the later season of life, I got into a habit of having a nightly glass of wine. What could it hurt? It could actually be good for me I was told. Over time I didn't get the usual headaches but my body started sending other signals in the form of chronic pain. I didn't get the message right away it took me a while to figure it out.
One day I was googling chronic inflammation and trying to figure out why I was so sore all the time even without activity. Suddenly a light in my head went on and I asked myself, "what do I have daily in my diet that I could have a sensitivity to?" The thing that came to mind was the nightly glass of red wine.
I decided to eliminate it for awhile and just see what happened. The first day there was a notable decrease in my inflammation and pain. I knew I was allergic to sulfites, but I had no idea that my sensitivity to them could affect me so profoundly.
What Conditions Can Food Sensitivities Cause?
The list of ailments caused by food sensitivities is long. Many people are not aware of just how many things in your body can be affected by food sensitivities. Here is a list of potential conditions that are caused by food sensitivities.
Migraines
Depression
Urticaria
Fibromyalgia
Arthritis
Ulcerative Colitis
Crohn's Disease
Atomic Dermatitis
Polycystic Ovary Syndrome
ADD/ADHD
Epilepsy
Otitis Media
Gerd
Asthma
Cyclic Vomiting Syndrome
Metabolic Syndrome
Irritable Bowel Syndrome
Interstitial Cystitis
Pathophysiological Effects
Inflammation
Tissue damage
Pain receptor activation
Smooth muscle contraction
Edema
Excess mucus
Neurological
Endocrine
Increased gut permeability
Here is a List of the Most Common Chemicals and Additives Causing an Immune Reaction
Acetaminophen
Aspartame
Benzoic Acid
Caffeine
Candida Albicans
Capsaicin
High Fructose Corn Syrup
Ibuprophen
Lecithin
Monosodium Glutamate
Phenylethylamine
Polysorbate 80
Potassium Nitrates and Nitrites
Saccharin
Salic Acid
Sodium Metabisulfite
Sodium Sulfite
Solanine
Sorbic Acid
Tyramine
Whey
Go to your list and avoid foods that contain these added chemicals. Making small changes can have a big effect on how your body feels.
Long-Term Effects of Chronic Inflammation
Anything that puts your body under stress will eventually affect your ability to fight off infections and bugs like bacteria, Salmonella, E-coli, viruses, colds and flu, and yeast/fungus in the body.
A compromised immune system leaves us at risk as bacteria, fungus, and viruses have free rein to overwhelm us.
Inflammation Caused Modern Day Foods
Some modern-day foods that are really causing us trouble that was not available to prehistoric humans are grains, dairy, and refined sugar. Hard to believe that these everyday staple foods we are now consuming are causing chronic diseases.
The Medical Journal evidence is out. Food intolerances can give you inflammatory conditions like:
Headaches and Migraines
Colitis
Asthma
Heart disease
Rheumatoid arthritis (stiff back and joints)
Eczema
Depression (anxiety attacks and panic attacks
Infertility and miscarriage
Multiple sclerosis
Behavioral disorders in children
Diabetes type 1
Pancreatitis
Thyroiditis ( Graves Disease, Hashimoto's and other inflammatory disorders)
A food intolerance is our inability to digest certain proteins. The great news is that by making dietary changes you can stop the disease progress and in most cases heal completely. All you need do is keep a journal of what you are eating and how you are feeling.
Temporary Relief
You can get some temporary relief by taking anti-inflammatories. Unfortunately, they are not going to eliminate the cause. Most likely the cause is a leaky gut which has been caused by food intolerances.
These Proteins Cause Trouble
Dairy intolerance - casein protein
Gluten intolerance - gluten protein
Yeast Sensitivity - yeast protein
Corn allergy - zein protein
Nightshade sensitivity - lectins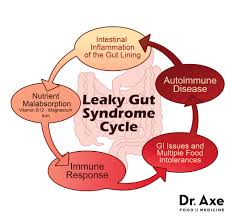 Your foods end up leaking into your gut causing your pain
When you can't digest properly these partially digested proteins and sugars actually cause damage to the small intestine. Tiny little holes develop in the tissue lining allowing protein pieces (peptides) to get out into the bloodstream. Your immune system immediately detects the foreign invaders and sets up its defense with inflammation. This is how the trouble begins slowly at first building up over the weeks, months and years until there is a chronic disease.
Once you begin the right diet for you your gut can begin its healing within a matter of days.
Case Study 1
Skin Courtesy of Dr. Florenzo Angehrn, Director of Clinic Piano, Biel, Switzerland Specialist for surgery and phlebology, SGP. This study reveals a patient's atopic dermatitis who were treated with an elimination diet rotation and was able to identify incompatible foods. This patient with eczema in different body areas was treated for 14 weeks and became free of her symptoms.
Case Study 2
Pancreatitis
Courtesy of HP Angela KaBner, Knesebeckstrabe 27, a naturopath lecturer.
Her patient was 47 years old and had two years of increasingly repeatedly upper abdominal pain. multiple hospitalizations and used painkillers without results.
Diagnosis and therapy
Suspicion of food intolerances may maintain chronic pancreatitis.
Treatment success
After taking a food intolerance test and complying with the results freedom of pain and symptoms was reached.
Case Study 3
Multiple symptoms: Overweight, Rheumatoid Arthritis
Courtesy of Dr. DAvid Blyweiss, Private Practice, Boca Raton, Florida
History
Patient, 54 years old, diagnosis of rheumatoid arthritis. Drug treatment with Humira, Methotrexate, Enbrel, and Prednisolone. Still no pain relief and side effects from strong medications.
Symptoms
Joint pain, fatigue, cold intolerance, insomnia, teeth marks in a swollen tongue. periphery, rheumatoid swelling in the finger joints leading to hand complaints.
Therapy
Take food intolerance test and restrict diet. In 6 months this led to a strong improvement and after 9 months the patient only felt a little pain in the morning or after gardening in her right hip. She lost weight and blood levels became normal.
Conclusion
Immune-related food intolerance and inflammation are often not recognized as the cause of various symptoms, the often delayed reactions make identification difficult.
The consequences of food intolerances may be a serious long-term and result in metabolic syndrome, neurological disorder, immunological comorbidities and others. Many case studies use an individually tailored rotation and the elimination diet to eliminate symptoms and even restore health where drug treatment was unsuccessful.
Resources That Can Help
Click the link below to order your food intolerance kit today. It is a simple easy way to test at home and see what your body is reacting to.
Download one of these apps. it will revolutionize food intolerances and is exactly what you need to stay on track.
References:
https://www.ncbi.nim.nih.gov/pubmed/19504097
https://www.cellsciencesytems.com