Dry Needle Therapy for Back Pain and Other Injuries
Dry needle therapy was first developed in the 1940's by Dr. Janet Travell. She and Dr. David Simon worked together to identify the muscular trigger points throughout the body. Small monofilament needles were used to penetrate the trigger point and reactivate knotted muscles and release tightened shortened muscles. This treatment affects immune, biomechanics, inflammatory, vascular and neurological systems.
American Physical Therapy Association state that Dry Needle Therapy is a skilled intervention to stimulate underlying myofascial trigger points, muscular and connective tissues. Dry needling is a technique to treat disfunction in skeletal muscle, fascia, connective tissue and reduce and restore body function leading to the return to activity.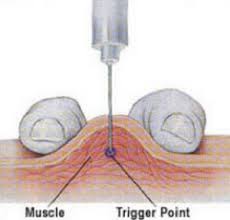 Get back to your activities and be pain free.
Dry needling goes under several names that clinicians use: TDN (Trigger Point Dry Needing), IMS (Intramuscular Stimulation), IMT (Instramuscular Manual Therapy), FDN (Functional Dry Needling) and a few others.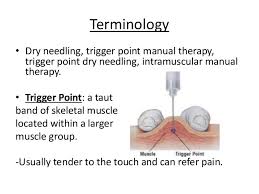 Find a Therapist and try Dry Needle Therapy.
To seek out a dry needle therapist you can look among, Chiropractors, Physical Therapists, Naturopaths, Acupuncturists, Osteopaths and Medical Doctors.
Things That Dry Needling Can Help
Back Pain
Neck Pain
Hamstring Pulls
Tennis Elbow
Plantar Fasciitis
Quadradius Injury
Tennis Elbow
Headaches
Chronic Pain
Fibromyalgia
Dry Needle Therapy is fast becoming one of the most popular modalities in medical practices. Musculoskeletal complaints are the most reported conditions that people seek medical attention for.
The most common Musculoskeletal complaints are trauma, back pain and arthritis. Dry needle therapy can return your range of motion and relieve all or a lot of your pain. The therapist can actually feel the difference in the tissues as he slides the needle through the muscle and fascia. Chronic tight tissue feels very gooey somewhat like silly putty. Therapists say it is easy to tell when you are in an area of muscle amnesia that needs to be woken up and stimulated. When muscles are knotted for a long time after an injury or constant tension at some point the brain leaves the area knotted and moves on to more demanding tasks at hand. By stimulating the area they are in a sense turning it back on and reconnecting the brain to it.
When Dry Needling is introduced to the body local reactions will occur at the point of insertion. The body then release cytokines, substance P and CGRP (Calcitonin Gene Related Peptide). The result is vasodilation, increased blood flow vessel formation and increased tissue repair. The body will react in such a way that a Enkephalin release, (pain killing affects which are released by neurons), will occur in a local pain response.
Dry Needling boasts of the incredible gains in range of motion that patients experience. Well I am here to tell you how true that is. My first experience with dry needle therapy was incredible. As I said it does smart a little but the results are really unbelievable. I had not been out of pain in so long that I couldn't believe how it felt to be virtually pain free and have a range of motion that I had in my younger years.
The thing with dry needle therapy is that it isn't a permanent fix but it does last a good 4 months, it did for me anyway. As I am writing this I am wondering why I didn't go back for another treatment. I guess I was looking for something that was a cure. Maybe it could be if I didn't continue to pound my body at the gym and on the tennis court. Both of these things I am guilty of and I have no intention of stopping what I love any time soon. If you are really active in sports and suffer from chronic pain and tightness I highly recommend you seek out a good Dry Needle Therapist. It works!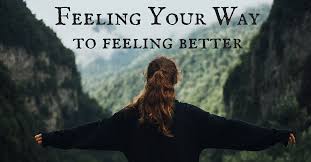 Dry Needling is Really Worth Doing.