I was born in the 50's, a time where buying bottled water was non-existent, so it's always been shocking to me how popular bottled water has become. Somehow we managed to stay hydrated with out bottled water. Now it seems you never see anyone with out a plastic water bottle in tow.
Im not sure if it was the fear of city water that began this craze or if we are just turning into a convenience driven world. It's probably a little of both but studies are showing that good old tap water may be far healthier than bottled water.
Both the Environmental Protection Agency ( EPA) and the Environmental Working Group (EWP) have both determined bottled water is inferior to tap water. The process of purifying the water, although it removes some pathogens that could be harmful, is seriously degrading the quality of the water. Methods like ion exchange, reverse osmosis, distillation and deionization are stripping water of all it's natural minerals and creating water referred to as "Dead Water". I don't know about you but I don't like the idea of drinking dead water. Long term consumption of dead water leaches minerals from our bodies bones, joints and muscles. The result is that bottled water can actually cause you harm and can contribute to the death of cells and tissues in your body. Regular consumption of dead water exclusively can kill you. Water by it's nature wants to return to it's original state and it will rob your body of it's minerals in order to do that.
Waters like Aquafina and Dasani simply take tap water and treat it with ultra violet rays to kill off any bacteria in it ( there probably isn't any) and bottle it up for a big profit. H2O brand advertised as glacier water admits to taking the water from the tap in Alaska. Studies are now showing that many bottled waters contain mold, microbes, benzene and even heavy metals like arsenic.
Drinking bottled water void of minerals is like pouring acid through our system. To be in a healthy state keeping our PH levels high is crucial. Acidic water has a very low PH and can turn our entire system acidic. There have been many studies and findings on the benefits of eating an Alkaline diet. It has been proven that cancer thrives in an acidic environment. Water is a very large part of our dietary consumption and is not to be taken lightly.
So what do you do? Drinking the tap water is definitely safer than most bottled waters. You should be looking for water that has a PH level from 8-10. Get a test kit so you can test the water you are consuming. By simply dipping the test strip into the water the results are immediate.
Here is a list of some popular water brands, as you can see it is hard to get any within the 8-10 range, but at least you will have some idea of the ones to avoid.
Vitamin water: 3.5
Propel Zero: 3.5
Dasani: 4.5
Perrier: 5.5
Ice Mountain: 6.0
Crystal Geiser: 6.0
Smart Water: 6.5
Walmart Great Value Water: 6.5
Gerber Pure Water: 6.5
Evian: 6.0
Zephrhyllis: 7.5
Fiji: 7.5
Real Water: 8.0
Essentia: 9.0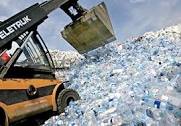 This is what our landfills look like!
What about the plastic bottles that the water is packaged in? All this talk of acidic water and low PH levels has to get you wondering whether the acidic water is causing the plastic to leach into the water. Plastic bottles are made out of Bisphenol A or better known as BPA. BPA is an endocrine disrupter which was thought to be a weak environmental estrogen. After further studies it is thought that it may be as strong as estradiol and could cause a cellular response. Rising earlier rates of puberty and other hormone driven diseases are making us question the safety of consuming out of plastic containers.
I've chosen to plan ahead and bring my own water in a safe planet friendly container. We as a community need to come together and do our part in cutting down on waste and contamination of our planet. Our landfills are full of these unnecessary plastic water bottles.
Read my next upcoming post on the benefits of drinking from copper containers :).