My Story
When I was a little girl I was always plump and had weight issues. I used food as a way of connecting with people. I was always up early in the morning and I would go into the kitchen and have breakfast at the table where my dad was having his. This was back in the 60's when dads didn't pay much attention to their kids, at least that was true in our household.
My dad was a hardworking, gruff, hot-tempered man, as I remember. I would climb up on the chair and my mom would give me whatever he was eating and I would stare at him as he read his morning paper. Somehow, I thought this was really connecting. What I didn't realize was that the only thing that I was connecting to was food. It was actually soothing me in what was a very uncomfortable situation. Sure, I had hopes that maybe he'd talk to me or notice me, but when that never happened I turned to food to make me feel good.
Next, out of the bed was one of my older sisters, she wasn't a whole lot different than my dad. Once again I made my way to the kitchen table and joined in with whatever she was having. I would try to make conversation only to annoy her and soon realized that the food was the only thing that was going to make me feel good.
Food Takes the Place of Love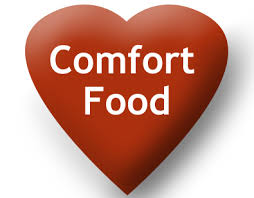 There's a reason they call it comfort food!
Food has a way of making us feel comforted, loved, understood, and most of all fulfilled. At a young age, we never worried about or thought about how we looked. It's not until puberty that someone comes along and tells us we are fat, that we notice we are.
I can remember entering 6th grade and that seemed to be about the age that I started to get self-conscious about being overweight. Boys started to tease me and call me names, it was at that time that I realized what used to bring me comfort now brought me pain.
Then in the 7th grade, I met a boy who sat behind me in Science class. He was always nice to me and didn't' seem to notice I was overweight. We had a lot in common and never ran out of things to talk about. It was the first time that I didn't need food to make me feel good. In fact, I felt so good I decided I didn't need food at all.
When I Stopped Eating
I Lost 50 Pounds in Three Months!
It was the end of the summer and school was just letting out. I had a new boyfriend and was bound and determined to lose weight and make him happy with how I looked. When you are 13 you don't really think straight and you certainly don't know the right way to lose weight. I decided to just stop eating and get it done really quickly. I lost nearly 50 pounds in 3 months time. I went from 170 pounds to 120 pounds just like that. How is that possible? You don't eat for days at a time and basically, you starve yourself. It was a very unhealthy time period in my life and one I am not proud of. I am very lucky I suffered no long-term health damage because of this.
I can remember lying in bed at night feeling so hungry I prayed for sleep to put me out of my misery. My boyfriend and I (my now husband) use to ride our mini bikes to a local store that had scales so I could weigh myself once a week to see what the progress was. Now, I don't want to give you the impression that any of this was his idea because it wasn't. He seemed perfectly happy with me being just the way I was. What he wasn't happy with, was me not being happy with the way I was. He supported me in whatever way he could to help me reach my goal.
It's a very odd story really, I lost 50 pounds, never gained it back, and never did anything like it again. Looking back now because I am a parent, I am very shocked at how no one in my family said anything about how much weight I lost in such a small amount of time. I realize now that I really was invisible and it wasn't my imagination when I was little. I've had to soothe myself and come to terms with the fact that none of it was my fault and that someone should have taken better care of me. My parents seemed to be very happy that I was getting thinner and my health was the last thing on their minds. I know now that we live in a society that puts so much emphasis on being thin and looking good that even your own parents would turn a blind eye to your health if it meant that you'd look better and in turn that somehow reflected better on them.
The Big Lesson I Learned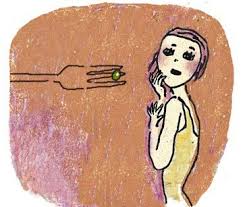 In the end you are responsible for the choices you make.
The biggest lesson I learned in my life came from this period of time. Certainly, as a child, you need to be taken care of, but this lesson changed me into an adult who learned to take care of herself and her own children.
Since those days I have learned a lot about how to maintain my weight and also to be in good health. I would never consider skipping meals or starving myself as a means to be in shape. Fad diets and the like are a temporary means to no good end. Once you understand this weight issues will be a thing of the past.
Diets imply restriction, lack, control, and deprivation all of the things that make us want to do the opposite. I had to learn that with proper eating there is less restriction, never any lack, freedom, and a feeling of fulfillment.
Learn to Love What You Can Eat!
Eating Good Doesn't Have to Feel Like a Diet
I have learned to love salads, vegetable soups, grilled fish, chicken, and healthy food choices at least 80% of the time. Vegetables allow you the freedom to have as much as you want to need to feel fulfilled. The other 20% of the time I may have that special dessert I have been wanting or dinner that is not on the healthy choice menu. And finally, I never deprive myself of a square or two of high-quality dark chocolate after each meal.
Healthy Tips for Weight Loss and Maintenance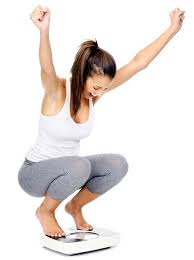 To Make Good Choices You Need The Facts.
Don't Overeat on Fruit
I don't eat a lot of fruit but when I do I am smart about it. Buy only single serving type fruits, with the exception of berries that you can eat as much as you want. Cut out the grapes and cherries, and opt for an apple, pear, plum, or banana. Avoid watermelon because it is so high in sugar that it will only make you crave more sugar. Cantaloupe and honeydew melons are perfectly fine to eat. Familiarize yourself with night-shade vegetables and cut them out of your diet, read my post, Losing Weight is Easier When You Have These Facts, https://www.yourpainismypain.com/blog/?offset=1509534916241. By eliminating night-shades you will start to crave the foods that are best for you. Eat good proteins like organic chicken, fresh fish, and if you eat beef buy grass fed. Healthy fats are also good for you such as olive oil, grapeseed oil, avocado oil and so on. Nuts and seeds are ok within reason.
Finally, remember you only need to do this 80% of the time. If there is something not on the list you can have it 2 out of 10 days. This is key to not feeling deprived, I have eaten this way for so long I don't even think about how often I am eating the right things I just feel it and know when it is ok to splurge. That's when it feels the best when it becomes 2nd nature.
When I travel I don't vary all that much, aside from a few more added treats, I still enjoy really good salads and try to be reasonable about how I eat. If there is something I really have been wanting I have it.
Grains, Bread, Potatoes and the LIke
I have probably noticed the biggest benefit from cutting out these things from my diet. When you eat a starch it turns into a sugar in the body. Once you convince yourself, that you may as well eat cake as eat bread, then you will finally understand why you should avoid it.
Understand the Difference Between Refined and Unrefined Sugar
Why is Sugar Bad for Your Health?
The Euromohitor's Study
A new study called Euromonitor's study which was posted in the Washington Post quoted that Americans are now consuming 126 grams or 32 teaspoons of sugar per day.
Here is a copy of the article the Washington Post did. Access to the Euromonitor study that normally would cost $1200. The Post shared it in their article for free.
The Post states that what is even more concerning is that people are consuming more and more high-fructose corn syrup (HFCS). Not only is this processed sugar cheaper, it's 20% sweeter than table sugar. This is why it is being widely used in so many products because it allows them to save money.
Here are The Affects of to Much Sugar as Quoted by Mercola
Overloads and damages the liver - Sugar can be likened to drinking too much alcohol. Your liver is the organ that has to transport sugar, which is very taxing and can overload the organ, leading to damage.
The effects of insulin and leptin signaling can trick your body into gaining weight. Fructose fools your body by turning off the body's appetite-control system.
Metabolic dysfunction - Eating too much sugar causes the classic metabolic syndrome. This causes weight gain, abdominal obesity, decreased HDL, increased LDL, elevated blood sugar, elevated triglycerides, and high blood pressure.
Increase in uric acid levels - Higher uric acid levels put you at risk for heart and kidney disease. The connection is now clear between fructose, metabolic syndrome, and your uric acid level can now be used as a marker for fructose toxicity.
Other Studies found that fructose is readily used by cancer cells to increase their proliferation (it feeds the cancer cells), promoting cell division and speeding their growth, which allows cancer to spread faster.
Alzheimer's disease is another illness that can arise from too much sugar consumption. It has been found that the same pathway that causes type 2 diabetes also causes Alzheimer's. It is thought that the constant burning of glucose for fuel for the brain may be the cause.
Other causes that are linked to too much sugar consumption include:
Type 2 diabetes
Hypertension
Lipid Problems
Heart Disease
Polycystic Ovarian Syndrome
Dementia
Ways to Manage Your Sugar Consumption
One way to manage your sugar consumption very easily is to spend 90% of your food budget on whole foods and 10% or less on processed foods. There is over 74% of our processed foods that contain added sugar hidden under 60 different names.
It is advised that you limit your consumption of refined carbohydrates (waffles, cereals, bagels, bread, and grains, as they break down to sugar in your body, which increases your insulin levels and causes insulin resistance.
Keep in mind that fruits also contain fructose but they are rich in nutrients and antioxidants. As a rule, try to keep your fructose level consumption under 25 grams a day.
If you are thinking of using aspartame, or sucralose, think again, they are actually another whole new set of health problems that are much worse than regular sugar.
Visit this link for a list of grams of sugar in fruits. It's good to know what you are actually choosing to eat. This may influence you into making better choices.