I had never heard of Emu Oil until recently which is surprising because I am always looking for new products that help with health and pain in the body.
Recently my husband turned his foot while playing tennis. It was very swollen and painful. It wasn't the ankle more the top of the foot.
A neighbor lady happened to be outside and stopped by for a chat. After he told her about his foot she said, "I have just the thing for you." Shortly after she stopped by the house and delivered a small bottle of Emu Oil. She told him to apply a small amount to the swollen area several times a day. It had no strange odor or color and seemed very thin and lightly oily.
That night he applied the cream before going to bed. We both thought that it probably wouldn't work but what the heck why not give it a try?
The next morning the swelling in his foot was dramatically decreased. We were very surprised at how quickly and effectively this oil had worked.
As it turns out it has many other uses, so I thought it was worth sharing in my post today.
What Exactly is Emu Oil?
Everyone is talking about the benefits of fish oil, but no one is saying much about the oils that come from birds. That's right, Emu Oil comes from non-flight birds much like an ostrich.
Emu Oil is made up of essential fatty acids, like omega-3's and it naturally reduces inflammation and can be used to treat many skin conditions.
Thousands of years ago, the aborigines of Australia, were some of the first to use Emu Oil to treat things like skin infections. Today doctors often recommend Emu Oil for the treatment of burns other types of skin conditions like muscle pain, migraines, and various other skin problems.
What are the Benefits of Emu Oil?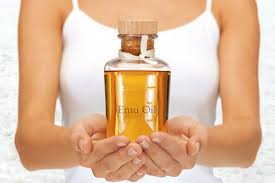 There are so many uses for emu oil and many studies prove it effective.
Cholesterol Lowering: Not only can Emu Oil be applied topically, it can be taken orally for cholesterol-lowering effects.
Inflammation and Pain: Emu Oil has been used to relieve muscle pain, joint pain, and improve wounds and damaged skin.
Gastrointestinal Benefits: Essential fatty acids, antioxidants, and vitamins within emu oil help prevent or treat infections when applied topically. When applied topically it has the ability to fight bacteria. The linolenic acid found in emu oil has the power to treat antibiotic-resistant infections, such as H.pylori, an infection that's responsible for gastric diseases such as gastritis, peptic ulcers, and gastric malignancy.
Boost Immunity: You can use emu oil to treat flu and cough symptoms naturally. It contains vitamin A and essential fatty acids, which are responsible for immune functions.
Improves Skin: Emu Oil absorbs quickly into the skin and it contains fat lipids similar to those that are found in the top layer of the skin. The oil is able to break through the barrier of the skin and go deep into the surface so it is a powerful moisturizer.
Emu oil reduces swelling and stimulates skin cell regeneration and circulation. It has been used on things like bed sores, psoriasis, eczema, scars, and stretch marks. Not to mention wrinkles and sun damage, and it has a 15 SPF factor as well.
Breast Feeding: When used on dry cracked nipples emu oil is a safe effective way of soothing soreness. A study provided by the Journal of Evidence-Based Complementary and Alternative Medicine.
Healthy Hair and Nails: The vitamin E promotes circulation in the scalp and can be used to add moisture and promote hair growth.